The Shows
THE WORLD'S SMALLEST CIRCUS
(WITH A SLIGHT TASTE OF JAPANESE TRADITIONAL FREAK SHOW)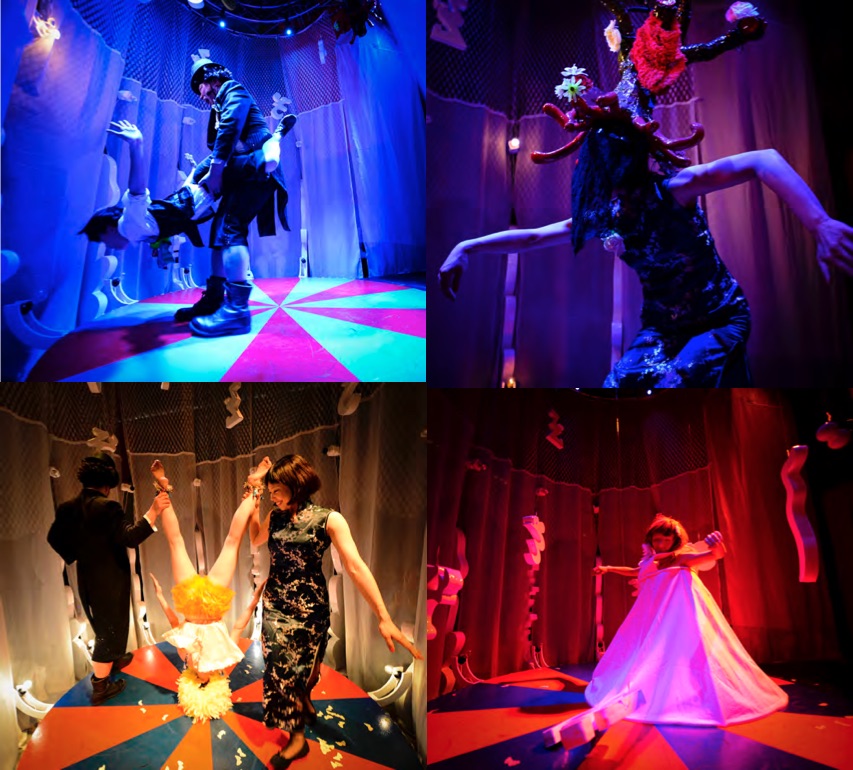 From the show "YND in Fantastic Kanazawa"
Oct, 2014 at 21st century Museum of Contemporary Art, Kanazawa
Here comes YND!
"Ladies and gentlemen, boys and girls, young and old, gather 'round! Gather 'round! Just come and dig the world's smallest circus, the Yamanekodan is waiting for you to open the door!"
Our representative works "Yamanekodan is coming" is a circus- style show with no animals, no fire, no aerial swings, no tight rope.
We present the most curious thing in the world, "the human being".
We present the human's uniqueness, sadness, weirdness, beauty, and energy through dance, music, words, and installations.
In childhood, the world seemed to be full of wonder. Everyone should have wanted to open the door of an old house that nobody seems to live in, and imagined a monster or a dwarf would invites you to inside.
We create the "door" to the world of FANTASIA.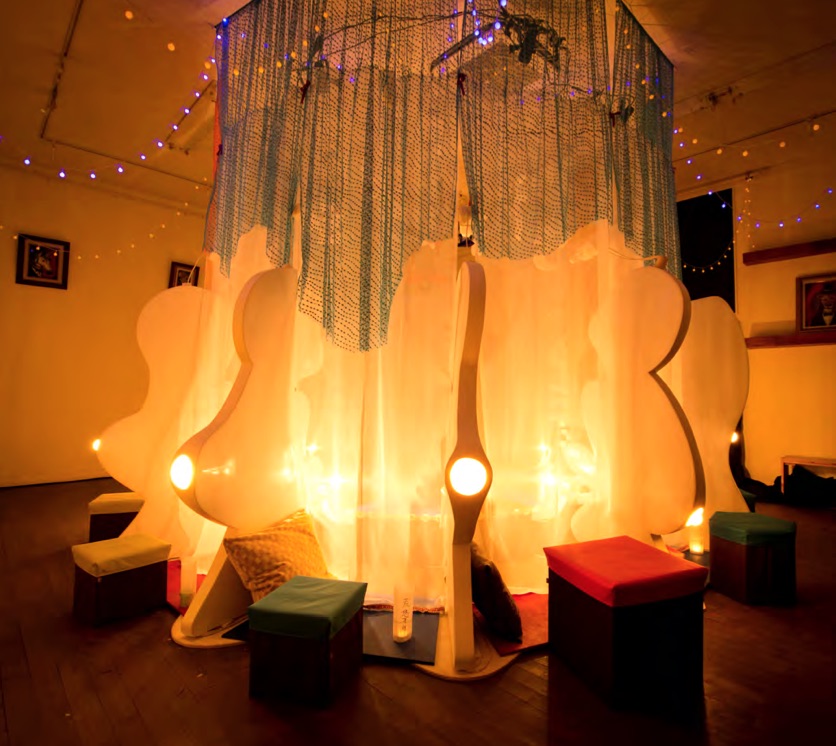 From the first show "Yamanekodan is coming" May 2013, Tokyo
The show for "YOU"
Usually, watching a live performance is a public action. The audiences share not only the space and time, but the emotion, atmosphere, and feelings with other people (including actors on the stage), influencing each other.
But originally what you feel can never be the same with others.
In YND's original show, we tried to make the experience into more private one. There are only 10 seats surrounding small circular stage and each seat is separated by the wall in individual.Also, very thin curtains are hiding the audience form the stage to create the situation "There is no one who is watching you watch the stage".
Sitting so close to the actors that they can even touch them, audiences can stare at anywhere they want without any concern. Also, the circular stage makes it more clear who the actors facing. It is not someone anonymous, but "YOU".
This show is a communication apparatus to purify the act "watch" and "be watched" .
Big ⇄ Small
WE CREATE THE SHOW ACCORDING TO SPACE, CIRCUMSTANCE, AND PEOPLE.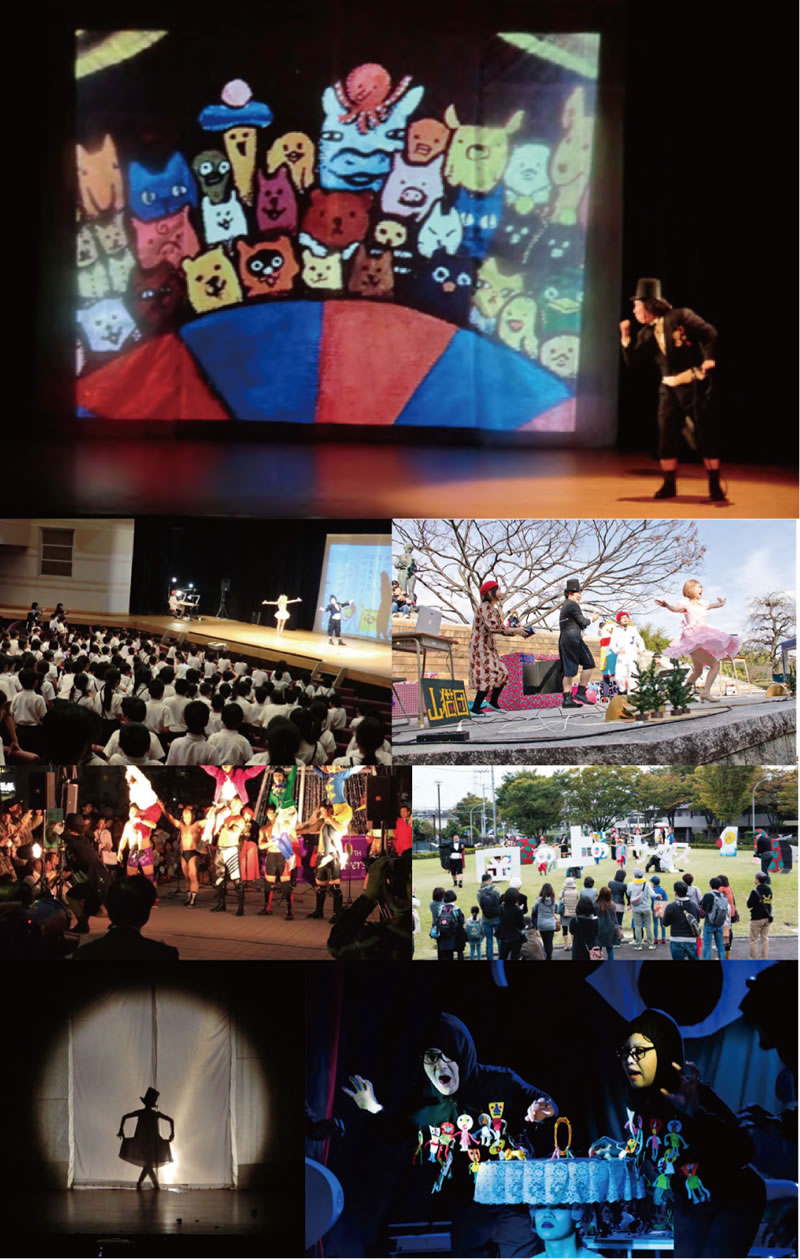 Up left & Down lest : From the show "The adventure of 'Nonoichi' " in Nonoichi-City, Kanazawa Right : " Park Market" in Okayama-City, Okayama
Flexibility
We create not only theater pieces, but we often create shows by requests.To start the creation, it is very important for us where we perform, and whom we perform for.
The elements (place, audience) effects very much to the idea of the show. We almost always create the whole new show each time we get the requests.
We have been performed in various places in various sizes: theaters, parks, music clubs, old school buildings, in the house, and on the street.
We have collaborated with musicians, bands, opera singer, or even professional wrestlers!
For society
ART PROMOTIONS & DISSEMINATIONS
WORKSHOPS & CITIZEN PARTICIPATION PROGRAMS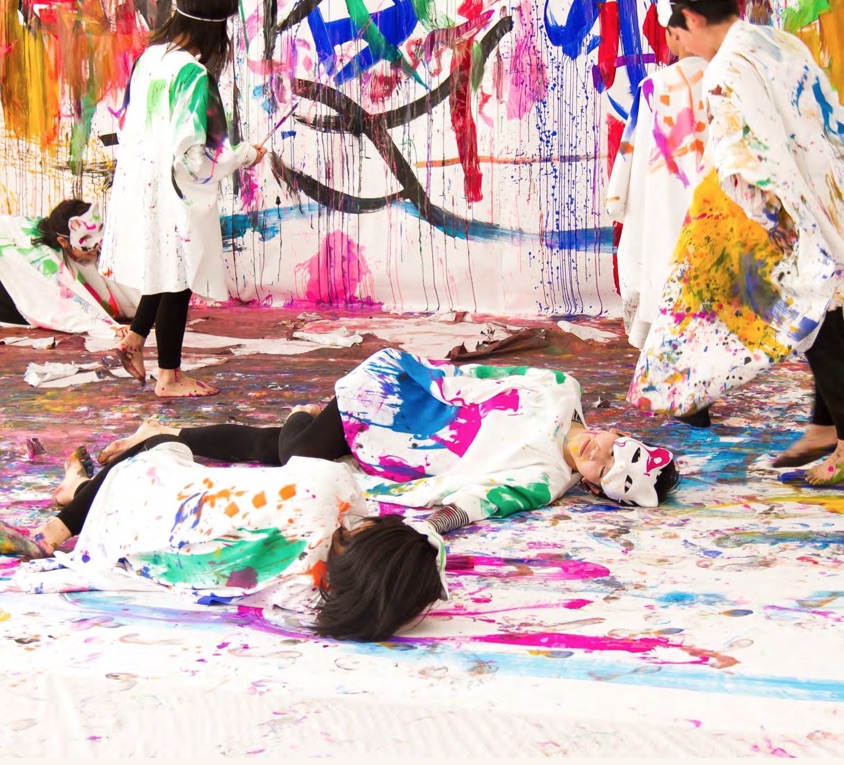 From a workshop held in child care facility in Oita, Japan. The last day of the 6-days workshop.
Social sculpture" by Joseph Beuys
"Social sculpture" is a theory developed by the artist Joseph Beuys in the 1970s based on the concept that everything is art, that every aspect of life could be approached creatively and, as a result, everyone has the potential to be an artist.
After being through the experience of The Great East Japan Earthquake in 2011, we started think about what we can do for the society. At that time, Japanese society seriously needed a change.
We don't think we can change it, but at least we can try to change someones's point of view. Especially kids. We believe that the small changes will guide us to brighter future.
Our workshops mainly proceed with dance programs. Simple works without verbal communications (ex. freezing, touching each other, walking with eyes closed) We help participants rediscover their qualities.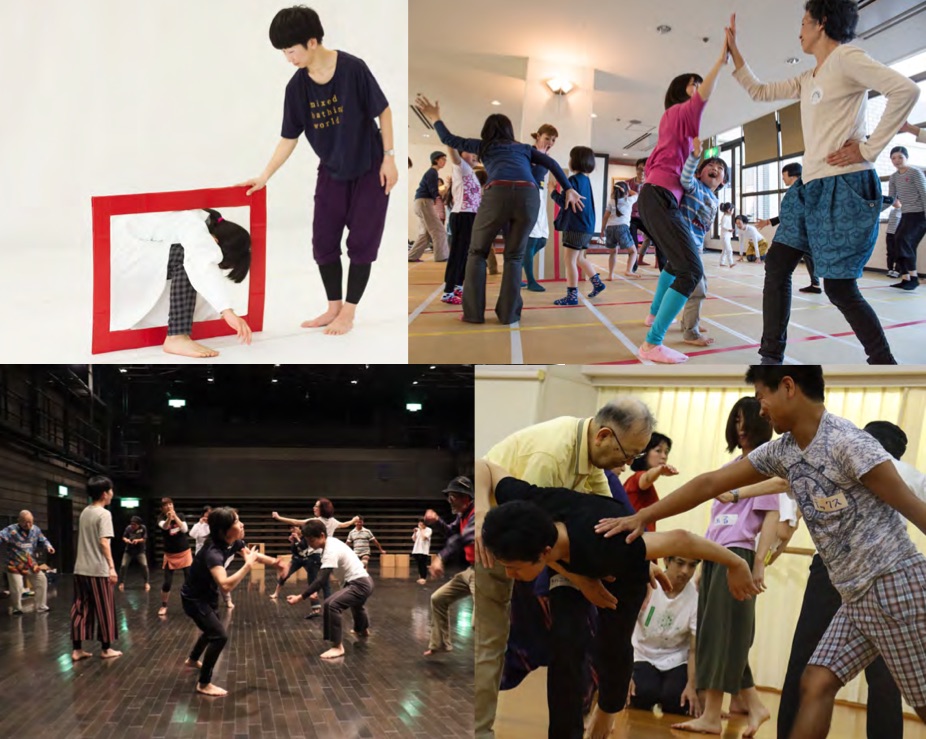 Dance for everybody
From 2015, we have visited more than 40 elementary schools, junior high school, university, child care facilities, theaters and others places for workshops, and have seen so many breathtaking, beautiful scenes.
The participants are different every time, like experienced danders or actors, kids, teachers and elderly, age from 4 to 83.
They always inspire us with surprising thoughts or act, and we bring them the joy of being themselves.
From 2015, We started citizen participation programs once a year and have presented 4 theater pieces.
From 2018, the director Erina Nagai was selected as one of co-working artists of the "Public hall revitalization project" organized by Japan Foundation for Regional Art-Activities and started working with the Public halls in various areas in Japan.
"KABUKI-MONO GRAND-PARADE" 「カブキモノ大興行」(2018)  citizen participation program
Photo by nitta sayaka ※無断転載禁止
From "Kabuki-mono Grand-Parade" citizen participation program
collaborated with Kobe Art Village Center, Kobe, HyokoA collaboration program with KAVC (Kobe Art Village Center).
KAVC locates in middle of downtown, very 'drunk' area. There many bars open from morning and there are many people hanging around with no perticular purpose.
KAVC is an art-complex with compact theater, gallery, cafe, and movie theater. The people coming to KAVC and the residents are like oil and water. They never cross. 20 years has passed with no understanding each other.This project was a first trial to mix them up and invite the residents into the theater.
Casts collected by public offering were in their teenage to 80s. Most of them are non-experienced and never be on stage through their lives.
They all went through the five days of rehearsals, and admired the audience. We succeeded to bring over 100 new people to the theater.
"CIRCUS ON THE HILL" 「岡の上のサーカス」(2015〜2017)  citizen participation program
Many of our members live in the same city and live, create, play together. The city locates between Tokyo and Yokohama (2 big cities in eastern Japan) and pretty far from both.
From 2015, we are trying to form a cultural community with people around us. We gathered kids and adults who are interested in performing arts, (but most of them have never tried) and been working together seriously.
In the beginning of the creation, we sit in a circle and talk a lot. How old or how much experienced doesn't matter. Even 5 years old boy thinks hard and tries to say his opinion.
We work together for 2 month before the show.
Getting better in dancing or playing is not important for both of us, but to open our mind and admit ourselves and others are.
The show sometimes gets wild and mess, but there is a sense that we can't feel from the professional ones.
Members
WE ARE A UNIQUE GROUP OF INDEPENDENT ARTISTS WITH VARIOUS PERSONALITIES AND FULL OF FANTASIA!
ERINA NAGAI
DIRECTOR, DANCERBorn in Tokyo.
Trained in Tokyo school of Music (Professional Dance Course).
Joined the company "KIm Itoh + the glorious future" in '99 and mastered BUTOH technics through more than 100 stages held inside of Japan and many other countries.
Formed Yamanekodan in '13, and started solo works at the same time and performs in underground clubs, too.
From '17, Erina took a part in Japanese traditional freak show and now she is the last one who inherited the secret traditional accomplishment. Well-experienced facilitator.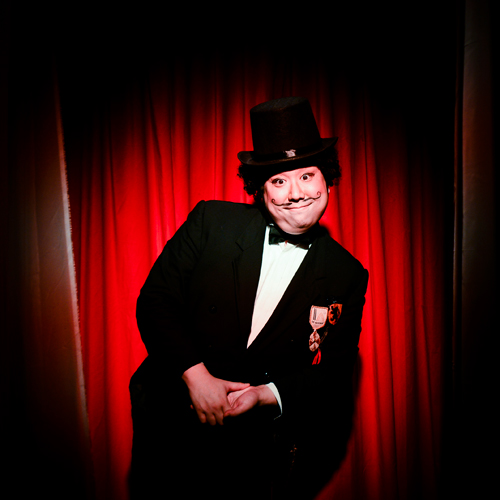 MASARU KITAZONO
MUSIC SUPERVISOR, CO-DIRECTOR, PIANISTBorn in Kobe.
Started playing piano in age of 3. Mastered Jazz-piano, composition, and arrangement in his early age.
His motto is
"Compose quick, play quick, convenient, and happy!"
He has been playing piano or accordion in many places like music club, concert hall with orchestra, restaurant, kinder- garden, in the middle of a river, or even at the top of the mountain with snow.
He is also works as "Chindon'ya" , (Japanese traditional street band).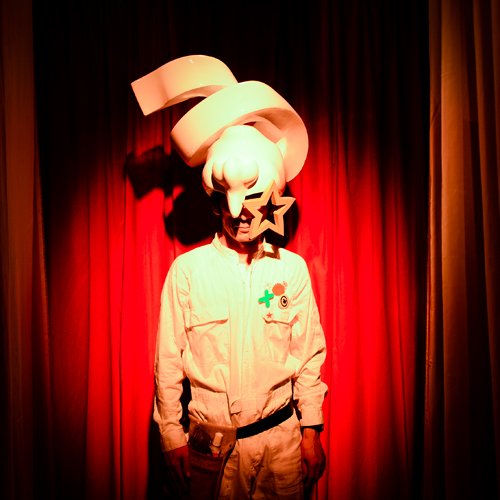 NORIO NISHIHARA
SET DESIGNER, CARVING ARTISTAfter long career as a set / prop designer for TV shows, commercials, movies, Norio started to create original headgears.
As a unique carving artist, Norio opens many exhibitions inside and out of Japan.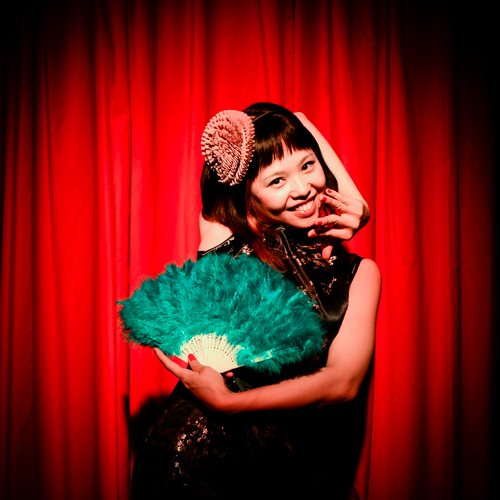 HATO
PAINTER, PERFORMERHato stated painting in her childhood. She grew up as a natural painter and sells her hand-made goods through her life.
She also started studying animation and now studying abroad in Czechoslovakia.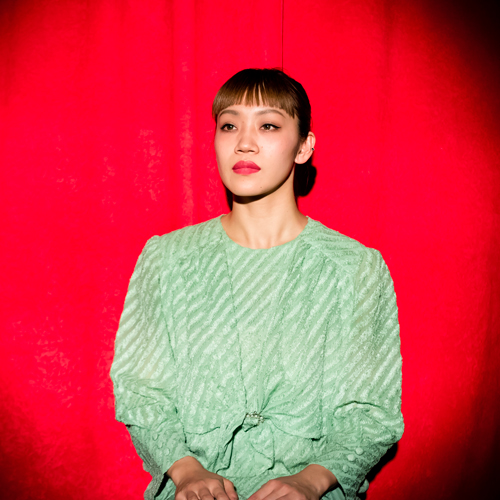 AYAKA SUZUKI
DANCERStarted dancing at age 3 and trained in Japan Women's College of Physical Education. With a certain technic of modern dance, she works with many Japanese young advanced choreographers.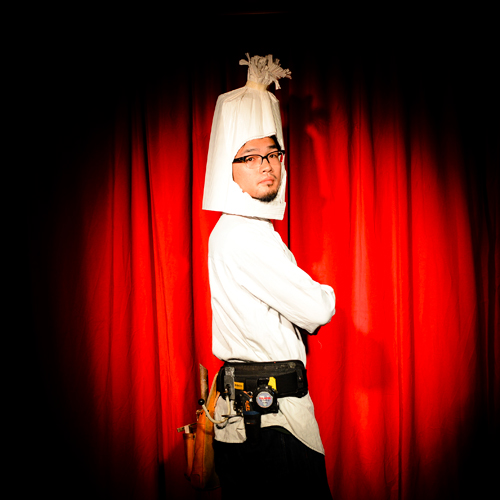 TAKEO KITAZAWA
ASSISTANT SET DESIGNER, SCENE SHIFTERStudied spatial design and modern art in Musashino Art Univ.
Works with many artists helping them build installations, also works as an art director for commercials, music videos, and movies.
NORIYUKI MORI


LIGHTING DESIGNER
AKINO HAYASHI


SOUND DESIGNER
DAIJIRO KAWAKAMI


STAGE DIRECTOR
YOSHIKO HARAGUCHI


STAGE DIRECTOR
HIROHISA OTA


ART DIRECTOR, GRAPHIC DESIGNER
TOMOYUKI KOBAYASHI


PHOTOGRAPHER
EMI SAITOH


COSTUME DESIGNER
Technical rider
"YND IS COMING" 「山猫団あらわる」(2013)
Staff
Director/Choreographer : Erina Nagai
Lighting Design: Noriyuki Mori
Set Design : Norio Nishihara
Painting & Props : HATO
Graphic Design : Hirohisa Ota
Stage Manager : Yoshiko Haraguchi
Music Supervisor : Masaru Kitazono
Sound Design: Akino Hayashi
Stage Carpenter : Takeo Kitazawa
Costume : Emi Saitoh
Photographer : Tomoyuki Kobayashi
Length
70min. No inter-mission
CAST
2 dancers, 1 pianist
On Tour
Minimum 4 person (3 performers, 1 stage designer)
Maximum 8 persons (3 performers, 1 stage designer, 1 lighting designer, 1 sound designer, 1 Stage Director, 1 Stage carpenter)
Stage
Circular Acting Area with a diameter of 3 m (10ft).
Height to the ceiling must be 4 m (13ft) or more.
10 curtains should be hanged from ceilings or bars.
Audiences sit around the curtains. 10 persons at one show is the best, but could be arranged up to 30.
Stage set is arrangeable according to the space.
Lightings
20 light bulbs, 10 Halogen bulbs connected to control console. 2 moving lights
Sound
1 small mixer desk to which a laptop is connected
1 sound system for the whole audience room, multi speakers. 1 Microphones for vocals.
"KABUKI-MONO GRAND-PARADE" 「カブキモノ大興行」(2018)
Staff
Director / Choreographer : Erina Nagai
Assistant Director : Ayaka Suzuki
Stage Carpenter : Takeo Kitazawa
Sound Design : Bunsho Nisikawa
Co-production : Kobe Art Village Center,
Mitamura-kan-da-dan
Music Supervisor : Masaru Kitazono
Set Design : Norio Nishihara
Lighting Design : Asako Miura
Stage Manager : Kazushi Ota
Length
Parade outside for 15 – 30min / Intermission for 10 -15min / Stage show for 50 – 60min, No inter-mission. Total 70 – 115 min.
CAST
2 dancers, 1 pianist (Yamaneko-dan), 10 citizens.
Requirements for cast (citizens) : Age 7 and over, no experience of performance is required.
On Tour
5 person (1 director, 2 performers, 1 stage designer, 1 stage manager) If participants don't understand English, 1 translator is necessary.
Stage
7m Wide (21ft), 5m Deep (15ft) minimum for acting area. Full flat space with no border between stage and audience. 10 – 15 chair on wall-side for elderly and disabled.
Lightings
normal theater settings : flat area light, spot light, per lights. Arrangeable.
Sound
1 small mixer desk to which a laptop is connected
1 sound system for the whole audience room, multi speakers. 2 Microphones for vocals.
1 piano (uplight) or keyboard
1 portable PA system for outside.
Time Table
Day 1 : 2 hours of workshop. Mostly introducing each other. A bit of choreography.
Day 2 : 3 hours of workshop. Mostly trial of improvisations. Before / after the workshop, go outside and walk along the root of the parade Day 3 : 4 hours of workshop. Try to from scenes from improvisations. With lighting / sound designers, stage director
Day 4 : 4 to 6 hours of workshop. Try to line up the scenes. With lighting / sound designers, stage director
Day 5 : 2 hours of rehearsal, dress rehearsal. Technical meetings and settings
Day 6 : 2 hours to prepare, show, strike
Contact
Yamanekodan 山猫団
www.ynd.tokyo (Japanese only so far)
info@ynd.tokyo (English available)
+81 70 5667 4124